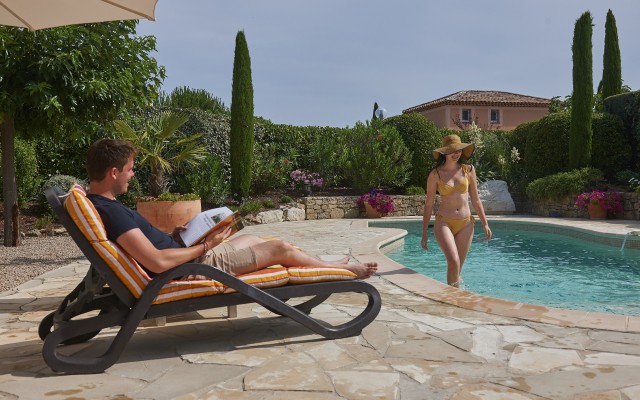 The ultimate holiday feeling, your own private pool! Relax in the warm French summer sun and then take a dip in the clear refreshing water.
Your holiday villa in France with private pool
Want to book a holiday villa in France with a private pool? Take a break and enjoy the peace and quiet around you in a luxury holiday home. This sounds like the ultimate dream vacation! We have several parks where some holiday homes have a private swimming pool.
Go directly to all our villas with private pool >>
The advantages of a holiday home with private pool
Of course you can also go on holiday to a holiday park where there is only a communal swimming pool. But both a communal and a private pool has its advantages. What is better than taking a cooling dip in your own pool immediately after your arrival?
You do not have to get up early in the morning to claim a sunbed with your towel in the sun, because there is no one else in the neighborhood. Enjoy the sun and each other or your family without strange people around you.
With a private swimming pool, you are no one a nuisance. The children decide for themselves how many bombs they make. There is no one in the neighborhood with whom they have to take into account, that is the advantage of a holiday home with private pool.
Start the day with a few laps or close it off with relaxed paddling. You are not dependent on opening hours.
Our parks with a private pool