Practical information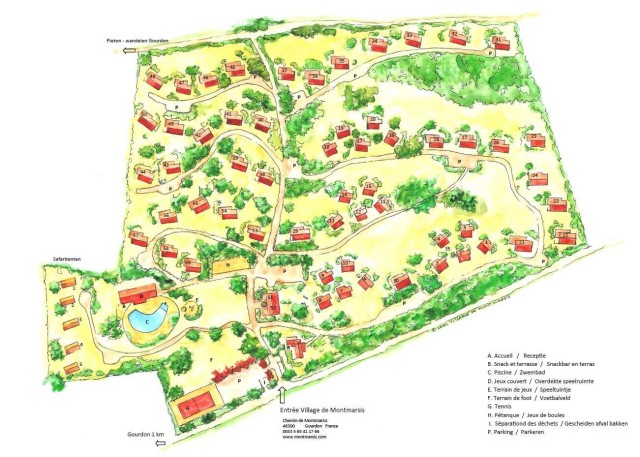 Mandatory and optional additional costs
Pets
Address data park
Travel information
Tourist information
Wifi
Deposit
Frequently Asked Questions
Mandatory and optional additional costs
On our site you will initially see the rental price in which the evt. discounts have already been processed. In addition to the rental there are a number of mandatory extra costs and optional extra costs that you have to pay on the spot. These are shown below.
Mandatory extra costs
Administration costs
The administration costs are € 19.50 per booking. If you want to make changes after your booking and payment, which means that you would receive a refund, this is possible in some cases. However, administration costs will be charged.
Bedding
The costs for bed linen are mandatory and are € 9.50 per set. This consists of a bottom sheet, duvet cover and pillowcase. The beds are made on arrival.
Cleaning
The costs for cleaning are mandatory.
Safari tent € 49
Holiday home 4 pers. comfort € 79
Holiday home 4 pers. deluxe € 89
Holiday home 6 pers. comfort € 89
Holiday home 8 pers. comfort € 115
Tourist tax
The tourist tax is approx. € 0.88 p.p. from 18 years.
Water / electricity
The costs of water and electricity are included in the rental prices. Because the heating costs (electric heating) are higher in the winter, rents are also slightly higher during that period.
Optional extra costs
Towels
You can rent a towel set. This consists of two large and one small towel and amounts to € 7 per set.

Baby items
There are some items for rent for your baby:
high chair € 2.50 per day
cot € 2.50 per day
Pets
Dogs that are well-raised are welcome in the park. There are a few villas available for dogs. Dogs never come in all other villas. These villas are therefore suitable for guests who are allergic to pets for example. Indicate if you are allergic to your reservation.
If you take your dog with you, the following rules apply:
Dogs may not come on beds, benches or chairs
If damage has been caused in or around the house, we ask you to report this immediately
The dog must be kept on a leash at the park and beyond
The dog can be let out outside the park
Discharge of the dog in the garden or on the park like to remove immediately
Make sure that neighbors have no (noise) nuisance from your dog
For your dog € 7 per night will be charged
Address details holiday park
The address details of the park are:
Village Montmarsis, Chemin de Mont Marsis, 46300 Gourdon, France
Email reception: montmarsis@francecomfort.com
The reception speaks the following languages: UK/FR/NL/DE
Travel information
Two weeks before arrival you will receive all the information for your arrival by mail. Some points of this:
Arrival between 16.00 and 19.00, departure before 10.00
If you come later, you can contact the reception before departure
If you have a delay during your trip, there is an emergency number in the arrival information
There is a route description for the last piece. The website also has a map with interactive directions
Tourist tips
Would you like to go out with your partner or with the family? On our page with tourist tips there is a large number of tips with extensive descriptions, photos and usually also a video. This way you can prepare yourself well at home, but also during your vacation you will see what you will do next day.
Wifi
All villas have wifi. However, the speed is lower than you are probably used to at home. It is not suitable to download heavy files.
Deposit
A € 300 deposit must be paid on arrival. € 300 will be blocked (so not written off!) On your account. Approx. 1 week after departure, the blockade will be lifted if there is no damage. If you do not use this reservation option but actually pay (by bank or cash) then the amount will be refunded after approx. 14 days after departure.
Frequently Asked Questions
Check out our special page with frequently asked questions if you want more information.