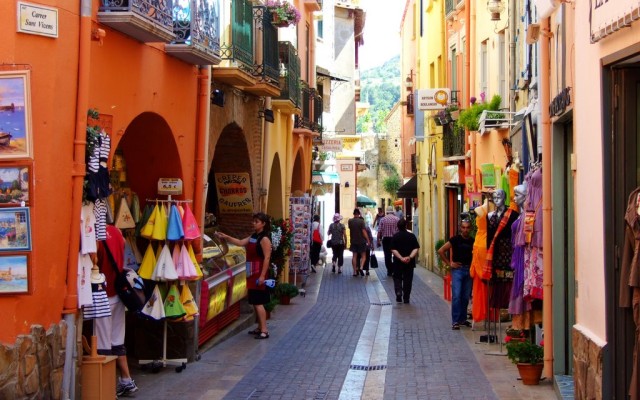 At the end of this beautiful afternoon I decide to go and see the town of Collioure and have something to eat here. Collioure is located in the southeast of France, close to the Spanish border. From the books I know that it is an artistic place, so I'm curious!
French holiday atmosphere in Languedoc
When I drive over the D914 to Collioure, I enter the village high. Below me I see the beautiful sea and the lower I come, the more the beautiful town shows itself. Once at the bottom I turn left towards the center of Collioure. Fortunately, there is ample parking. What immediately strikes me is the river that flows into the Mediterranean here, along a medieval castle wall. Between this castle wall and the cathedral is a small landscaped beach and there are many terraces. There is a band playing and there is a typical French cosiness. Bonjour!
Tourism on the Mediterranean
The streets behind the harbor are narrow, with many shops. Focused on tourists but also certainly complemented by French specialties from the Languedoc-Roussilion. Many wines and cheeses, but also a lot of art workshops. You get the feeling that you ended up in the Middle Ages. Some workshops still show the authentic industry. On the façades you often see the cross of the Crusaders returning, who lived in the earlier periods in the southeast of France.
L'Espinet, our beautiful holiday park in the Languedoc >>
Restaurants in Collioure
You can eat in Collioure in many places and very diverse. From small restaurants with a few tables, to large restaurants near the water. I choose a terrace on the water to enjoy the music. Typically, you can only enjoy the daily menu on the terrace, if you want to eat something else you can take a seat in the restaurant. The fish species on the map are overwhelming.
A bonne journée
After having bought some delicious snacks, I go back. This time I take the beautiful coastal road the D114, to enjoy the sea before the sun is completely below. What a bonne journée ...
Source: bonjourfrankrijk