Practical information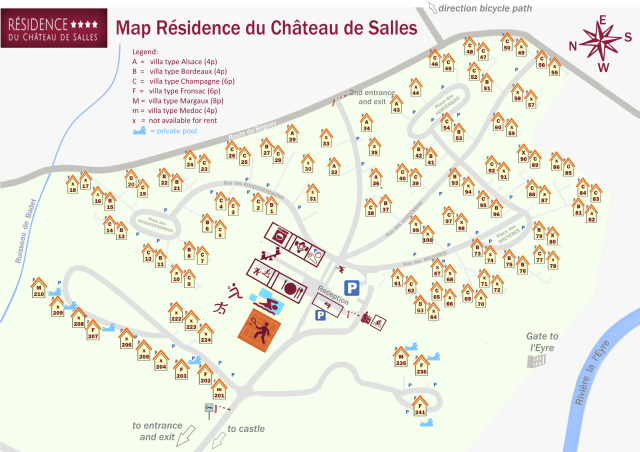 Mandatory and optional extra costs
Pets
Address information park
Arrival information
Tourist information
Wifi
golf
Deposit
Frequently Asked Questions
Mandatory and optional extra costs
On our site you will initially see the rental price in which the eventual. discounts have already been processed. In addition to the rent, there are a number of mandatory extra costs and optional extra costs. These are shown below.
When making a (draft) booking, these amounts are shown so that you know exactly what the total costs are.
Mandatory extra costs
Administration costs
The administration costs amount to € 19.50 per booking. If you want to make changes after your booking and payment that would give you money back, then that is possible in some cases. However, administration costs will be charged.
Bedding
The costs for bed linen are mandatory and amount to € 9 per set. This consists of a bottom sheet, duvet cover and pillowcase. You pay this on arrival.
Cleaning
The costs for cleaning are mandatory and must be paid on the spot. The amounts are as follows:
Alsace 4 person € 89
Bordeaux 4 person € 89
Medoc 4 person € 95
Champagne 6 person € 99
Fronsac 6 person € 109
Margaux 8 person villa € 119
Tourist tax
The tourist tax is approximately € 1.00 per person from 12 years.
Optional extra costs
Towels
You can rent a towel set. This consists of a large and small towel and is € 8.00 per set.

Tea towels
A set of 2 tea towels can be rented for € 4.00

Baby items
There are baby items for rent:
cot € 2.50 per day
high chair € 2.50 per day
Bed making
We make the beds for you for € 5 pp.
Firewood
At the reception you can buy firewood for € 15
You can now order all optional items but pay on the spot.
Pets
Dogs that are well-behaved are welcome in the park. You must request this in advance. There are some villas available for dogs. Dogs never come to all other villas. These villas are therefore suitable for guests who are allergic to pets, for example. Indicate when you make your reservation if you are allergic.
If you take your dog with you, the following rules apply:
Dogs are not allowed on beds, couches or chairs
If there is damage caused in or around the house, we request that you report this immediately
The dog must be on a leash at the park
The dog can be walked outside the park
Immediately remove feces from the dog in the garden or park
Make sure that neighbors have no (noise) nuisance from your dog
For your dog € 7 will be charged per day
Address information park
The address details of the park are:
Résidence Château de Salles
35, Rue du Château
33770 Salles

Administrator (UK speaking): Joris van de Colk
E-mail: info@francecomfort.com
The reception speaks the following languages: EN / FR / /NL DE
Travel Information
Two weeks before arrival you will receive all information before your arrival by e-mail. A few points:
Arrival between 16.00 and 19.00, departure before 10.00
If you are coming later, you can email the reception before departure
If you have a delay during your trip, there is an emergency number in the travel information
A route description for the last part is included. On the website there is also a map with interactive directions
Tourist tips
Would you like to go out with your partner or with the family. On our tourist tips page you will find a large number of tips with a detailed description, photos and usually also a video. This way you can prepare well at home, but also look at what you will do during the next day.
Wifi
All villas have WiFi. However, the speed is lower than you are probably used to at home. It is not suitable to download heavy files.
Golf
Within approx. 30 km. are some beautiful golf courses. The staff at the reception can tell you everything about it.
Deposit
On arrival you must pay a deposit of € 300 (Medoc, Fronsac and Margaux € 450) with a check, credit card or pin reservation. This amount will be blocked (not debited!) on your account. Ca. The blockade will be lifted 1 week after departure if there is no damage. If you do not make use of this reservation option but actually pay (by bank or cash) then the amount will be refunded after approx. 14 days after departure withholding of € 10 administration costs. It is therefore more attractive and easier for you and for us to make a reservation.
Frequently Asked Questions
Check our special page with frequently asked questions if you want more information.